As we've seen with the recent Marshall Fire and the 1000 plus homes lost in Superior and Louisville, Wildfire Mitigation is more important than ever. Following are links to very important information about what you can be doing now.
VIEW OUR WILDLFIRE SYMPOSIUM
Visit our Town Hall Meeting page for more info or download the PDF flyer
COMMUNITY AMBASSADOR PROGRAM
Elk Creek and Inter-Canyon Fire Protection Districts offer their communities a great resource with the Community Ambassador Program (CAP). This program provides support to communities that are working on organizing to reduce their wildfire risk. Your Ambassadors are currently looking for more interested, motivated and dedicated members of their communities to make connections with and communicate important information about the fire districts. Your Ambassadors are both representatives of their neighborhoods and volunteers with the fire districts, thus serving as links between residents and fire personnel.
Please review this map (link also provided below) from the Community Resources page to find the Ambassador in your area and contact them to find out how you can be involved or how to ensure you get important information about your community. If your neighborhood does not yet have an Ambassador, and you are interested in joining the program or just want to learn more about it, contact Kelleigh McConnaughey at [email protected]
https://experience.arcgis.com/experience/ec82ad4197bd43aea4e0b26e0951fe60/page/Community-Resources/?views=View-18
WILDFIRE PREPARED HOME ASSESSMENT SIGNUP:
https://experience.arcgis.com/experience/ec82ad4197bd43aea4e0b26e0951fe60/page/Home-Assessments/?views=View-1
JEFFERSON COUNTY CODE RED SIGNUP:
https://www.jeffco.us/473/Emergency-Notifications
FIREWISE WEBSITE/INFORMATION:
https://csfs.colostate.edu/wildfire-mitigation/colorado-firewise-communities/
---
ELK CREEK / INTER-CANYON FIRE PROTECTION DISTRICTS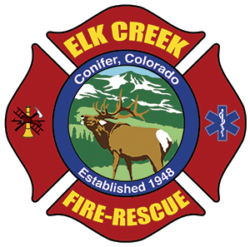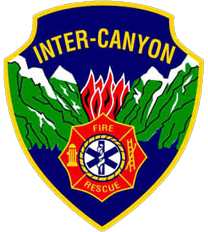 To stay up to date on current events from the fire protection districts please click on the following links: Also included below are links to Facebook, twitter, next door and fire department websites:
https://www.facebook.com/ICFPD
https://www.facebook.com/ElkCreekFireDepartment
https://twitter.com/ICFPD
https://twitter.com/ElkCreekFire
https://www.intercanyonfire.org
https://nextdoor.com/agency-detail/co/morrison/inter-canyon-fire-protection-district/
http://www.elkcreekfire.org
Why Regional Collaboration?
What comes to mind when you hear the words "regional collaboration"? Working together is embedded in the "DNA" of any fire department. Mutual aid provided by surrounding jurisdictions over a wide geographical area is the most common example of working for the betterment of public safety. Inter-Canyon Fire Protection District (ICFPD) and Elk Creek Fire Protection District (ECFPD) are collaborating to maintain and improve structural fire protection, wildfire mitigation and suppression, and Emergency Medical Services across both districts. ICFPD and ECFPD have implemented several examples of collaboration:
Shared Wildfire Mitigation Specialist
Fuel chipping program
Wildfire suppression module firefighters
Specialized response teams (wildfire and technical rescue)
Regional fire academy for new firefighters
EMT classes on the Highway 285 corridor
Apparatus maintenance
Reasons for Collaboration
The revenues in many jurisdictions simply haven't kept pace with the increased demand for emergency services. The decline in the number of volunteers nationwide combined with increasing emergency call volume is an issue faced by fire departments across the country. From mutual aid to specialized working groups, regional collaboration represents an opportunity to work "smarter" because it allows departments to work together for improving services to area residents. The firefighters, EMTs and paramedics of Elk Creek and Inter-Canyon are working together for you and your family.
---
News From Rotary Wildfire Ready
Wildfire Preparedness Educational Resource: https://www.rotarywildfireready.com
Rotary has teamed up with Elk Creek Fire and Evergreen Fire Rescue to create a comprehensive educational resource to help you and your family prepare for wildfire. You'll find helpful links to sign up for evacuation notifications. You'll learn how to create defensible space, harden your home from wildfire and how to incorporate fire resistant landscaping. You'll also find important information on evacuation preparation, including your Wildfire Action Plan, what to wear in a wildfire evacuation and how to build your 'Go-Bag'.
---
News from Jefferson County
News from Jeffco regarding Slash Collection
https://www.jeffco.us/slash

Help Reduce Wildfire Danger
It's Wildfire Season … Protect Your Home!

Clear your property and bring your tree debris to the Jefferson County Slash Collection! For 2020, we'll be somewhere in Jefferson County every weekend from June 6 through Nov. 1. Check back as the locations are being finalized.
Download and view more information and slash collection calendar