HISTORY of the MIDWAY HOUSE at MEYER RANCH PARK PROJECT
As residents and tourists drive southwest on Hwy 285 and down into the Conifer area, The Meyer Ranch House, also known as the Midway House, is an iconic landmark in the middle of the beautiful Meyer Ranch Open Space Park.
The Midway House, constructed in 1889, is part of a complex of buildings comprising the historic Meyer Ranch. These structures are now part of the larger 667-acre Meyer Ranch Park owned by Jefferson County Open Space (JCOS).
This Queen Anne style home was termed the Midway House given its location as a stagecoach stopping point along the route from Denver to Fairplay. The Meyer family purchased the home in 1950, and the Midway House was later added to the National Register of Historic Places in 1990 for its historical significance in both architecture and transportation.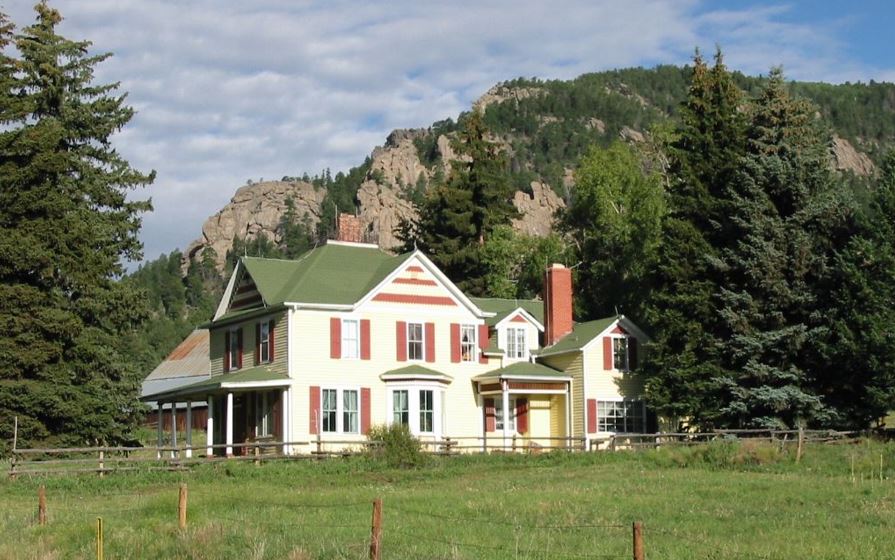 Conifer Area Council has been working with Jefferson County Open Space on several trails, open space parks and property acquisition projects, including the Midway House and Meyer Ranch, for the past 20 years.
In 2019, Jefferson County Open Space, Conifer Area Council (CAC), and the Conifer Chamber of Commerce (CCC) came together to determine the feasibility of utilizing The Midway House as a Welcome Center, given its prominent location and iconic significance to the region. A historic structure assessment of the Midway House had been completed in 2012, and a building inspection had been performed in 2017. A $50,000.00 grant was obtained at this time to determine the feasibility of utilizing the house as a Welcome Center.
Unfortunately, it was determined that it would be cost prohibitive to bring the house up to code and structural integrity for public use.
Conifer Area Council and Jefferson County Open Space sat down at a meeting in 2021 to discuss the possibilities knowing that utilizing the Midway House as a Welcome Center for the Public would be out of reach financially.
Following is what we came up with:
Midway House At Meyer Ranch Park Project
Vision – Walking Park to promote Conifer, its rich history and abundant recreational opportunities
Ideas being considered:
Interactive information about Meyer Ranch, Conifer history and surrounding parks and trails by using kiosks, QR updateable codes, signage with photos and images.
Walking paths reaching to the house and looping around the buildings to explore local history.
Expanded parking on the north side of highway 285.
Park shelter with new facilities, shade, picnic tables and benches.
Supply information for visitors about Conifer and Jeffco Open Space properties
To enhance outdoor viewing opportunities of historic Meyer Ranch house and property.
Jeffco Open Space Conservation Green Print as a 2025 project