Claiming Conifer's Character – 2022 Conifer Community Survey
As you know, Conifer is unincorporated, without any city government to fight for issues important to our community. To better understand what community residents believe is important, Conifer Area Council has facilitated 4 Comprehensive Conifer Community Surveys in the past – 2006, 2010, 2014 and 2018 – and is asking for your valuable input again.
This is how we gather information from you that is used to guide our direction for study and action. And, we convey preferences to those making decisions on our behalf, i.e. Jeffco Planning & Zoning, Open Space, County Commissioners, Road and Bridge.
Please take a few minutes to take the 2022 Conifer Community Survey. What's important to you? Wildfire? / Water Resources? / Road Improvements??? Your input will help shape Conifer for many years to come!
All household members are invited to complete this survey. It won't take long to simply answer the questions but there is also information to explain the "Conifer Loop Access Project", "Consolidation of our Fire Departments", "Village Centers" and more, that you may want to read to better understand what is already being done.
Take the current survey HERE
Thank-you for your valuable input!
Conifer Area Council Board of Directors
---
Conifer 2022 Library Survey Results – Download the PDF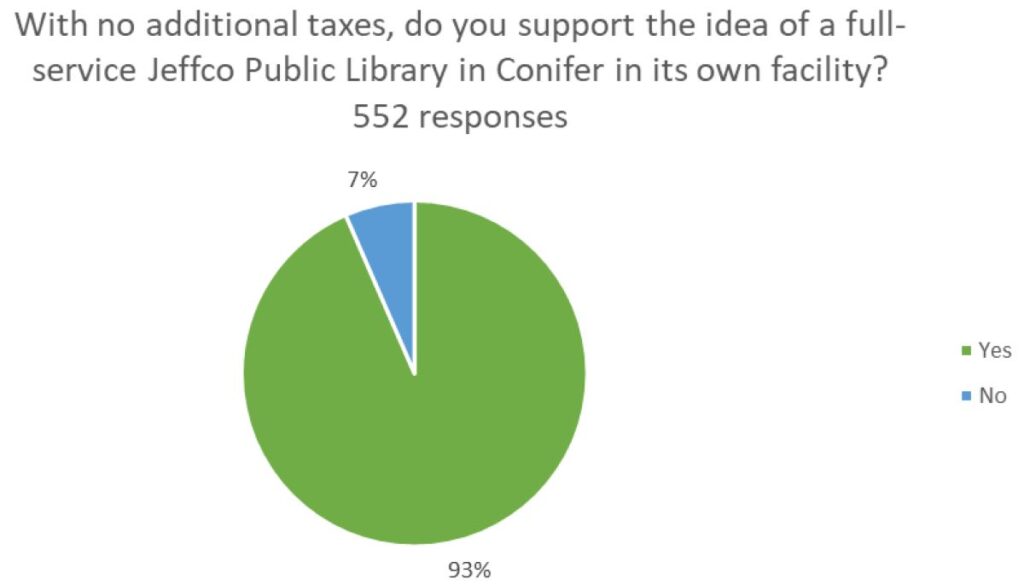 ---
Claiming Conifer's Character – Community Survey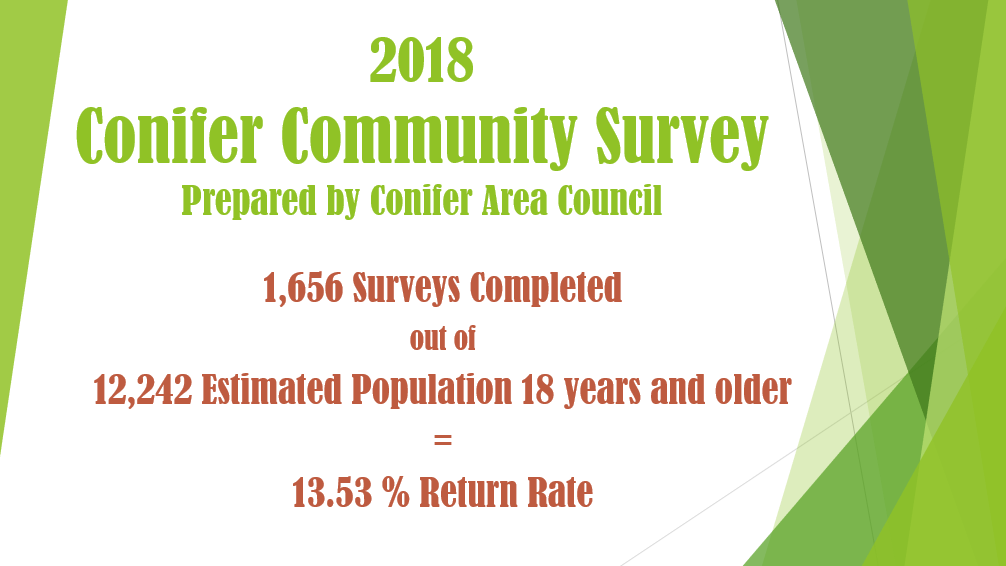 We're pleased to share the results of our 20006, 2010 and 2018 Claiming Conifer's Character Community Surveys. In 2010 we had 1,329 residents share their perspectives, an increase of 1/3 from the 2006 survey. The survey was offered between February and March of 2010. We provided both paper copy as well as an Internet-based option. We were pleased that ¾ of respondents used the Internet version. By using an Internet survey provider, we were able to manage and analyze the information more efficiently. Many individuals and organizations provided input as we developed the survey and we thank all of those who assisted. Their recommendations helped us craft a targeted set of questions that serve us well as we consider and plan for a Conifer future we can all embrace. We're interested in making these findings as useful and available as possible. If you'd like a presentation for your organization, we'd be pleased to provide that.
Feel free to download and utilize these findings. We merely request that you provide attribution to Conifer Area Council.
Your Conifer Area Council Board of Directors